Save time and grow your Twitter following with AI content creation. Use Tweet Hunter's AI Assistant to generate awesome content ideas and boost productivity.
AI Assistant - Tweet Hunter's AI Content Creation Tool
https://ondemand.bannerbear.com/simpleurl/9MOpzJ843LWBnGWYvq/image/title/text/AI%20Content%20Creation:%20How%20to%20Create%20Better%20Content%20with%20Tweet%20Hunter's%20AI%20Assistant 
Whether you are a solopreneur, a thought leader, or a large business, Twitter is a powerful tool for finding community members and target members. The only problem is, building your audience on Twitter takes a lot of time.
Content creation takes up the most time in your Twitter marketing strategy. You may spend hours crafting the perfect thread and get only a few likes and comments. This is where an AI content creation tool can help you.
This guide will show you how to use Tweet Hunter's AI Assistant to generate awesome content ideas, boost productivity, and grow your following on the platform quicker than it usually takes.
Why You Should Be Using AI Tools for Twitter
There are many AI-powered content creation tools out there. AI Assistant is a one-of-a-kind,
highly-advanced tool
that is specifically designed to help you create relevant, top-notch,
engaging content for Twitter
.
Here are a few reasons why you should be using AI tools for Twitter.
Helps You Save Time
As a busy content creator or entrepreneur, you may not always have time to create new content constantly. This is especially true if you are managing more than one account. A high-quality AI tool can help you save time by automating this process.
Create Personalized Content
AI has the ability to craft tweets that your audience will find relevant. You can tweak the output you generate through inputs and prompts that make your content targeted and personalized.
You no longer have to post generic content that generates a lukewarm response from your readers. Personalized content will deliver the impact that you were hoping for.
Improve the Quality of Your Content
AI for content creation can also help you improve the quality of your tweets. It can proofread your tweets to ensure there are no grammatical errors. You can also use it to adjust the tone of your content to make the language natural and easy to understand.
High-Quality DMs
Another great benefit of using AI is that it will allow you to create better-quality DMs. If you are looking for more conversions and clients from Twitter, this can be a game-changer for you. AI Assistant can help you write more DMs without compromising on quality.
What is AI Assistant?
AI Assistant is a unique and powerful AI-driven content creation tool specifically designed to help you create high-quality tweets, replies, and DMs. It can generate topic ideas,
write engaging tweets
from scratch, and
improve the quality of your content
.
The Action Library on AI Assistant is where you'll find several actions to choose from. An automated prompt will start the process, and you can tweak the final results through further prompts.
Here's a complete guide on how to use the various sections of your AI Assistant to maximize the quality of the content it generates for you.
Generate Topic Ideas
If you've hit a wall with content creation and are out of ideas, AI Assistant can make brainstorming a breeze. Start by clicking "AI Assistant" on your Tweet Hunter Dashboard and then click "Actions Library." Next, click "Get topic ideas for my tweets."
Step 1: Generate Ideas About a Specific Topic
There are currently nine different options available centered around generating tweet ideas. Let's say you want to generate tweet ideas about a particular topic.
Click "Generate tweet ideas about any topic."
Edit the "topic" section in the prompt generated to include a topic you are interested in.
Select a topic from the list generated.
Step 2: Finding Audience Pain Points
If you want to specifically find your audience's pain points and create tweets addressing them, use AI Assistant to cut down your research time.
Go back to your Action Library and click "Find audience pain points."
Edit the "target audience" section to specify who your target audience is.
Select a topic from the list generated.
You can also ask AI Assistant to generate alternate or unique ideas if you're not happy with the list it generates.
For example, use a prompt like "Generate unique pain points that many SaaS makers have."
Want bolder ideas? Click the "Bolder" button.
Step 3: Explore the Other Options
The basic steps for generating ideas through AI Assistant remain the same.
Simply pick an option from the menu.
Review the ideas generated.
AI Assistant can be used to brainstorm useful tools for a particular topic, documentary recommendations, book recommendations, common misconceptions, common mistakes, and more!
Create Content from Scratch
Once you have generated a few ideas for your next tweet, it's time to use AI Assistant to create content. Go back to the "Actions Library" and click "Create content from scratch."
Step 1: Create a Post About a Specific Topic
With this AI content creation tool, you can create a tweet or thread about a specific topic from scratch.
Click "Create a post about a topic."
Edit your prompt to specify your topic.
Edit the prompt to specify whether you want to create a tweet or a thread.
Click "edit & tweet" if you're happy about it.
Click "Longer" or "Shorter" to adjust the length of the tweet.
You can also adjust the tone of the tweet by making it more casual, more formal, or bolder.
AI Assistant can also create specific posts following popular templates such as:
Skills to become successful posts
Step 2: Create Threads
Now that you know how easy it is to create tweets from scratch on any topic, let's move on to the next step. AI Assistant can be used to create incredibly relevant, high-quality threads on any topic. Here's how to do it.
Click "Create a post about a topic."
Edit your prompt to specify your thread topic.
AI Assistant will generate an entire thread around the topic of your choice.
Let's fine-tune the thread to make it more suitable for your target audience.
Provide a specific prompt, such as "Use fewer emojis and provide more context."
Review the changes and click "edit & tweet" if you're happy with the changes.
Improve Generated Content
You can also use AI Assistant to improve the quality of the tweets and make sure they align with your personal brand and your unique content style. Start by going back to your Actions Library and clicking "Improve generated content."
Step 1: Change the Tone of a Post
Click "Change the tone of a post."
Edit the "tone" section to specify what tone you prefer.
Paste the tweet you would like to improve and hit Enter again.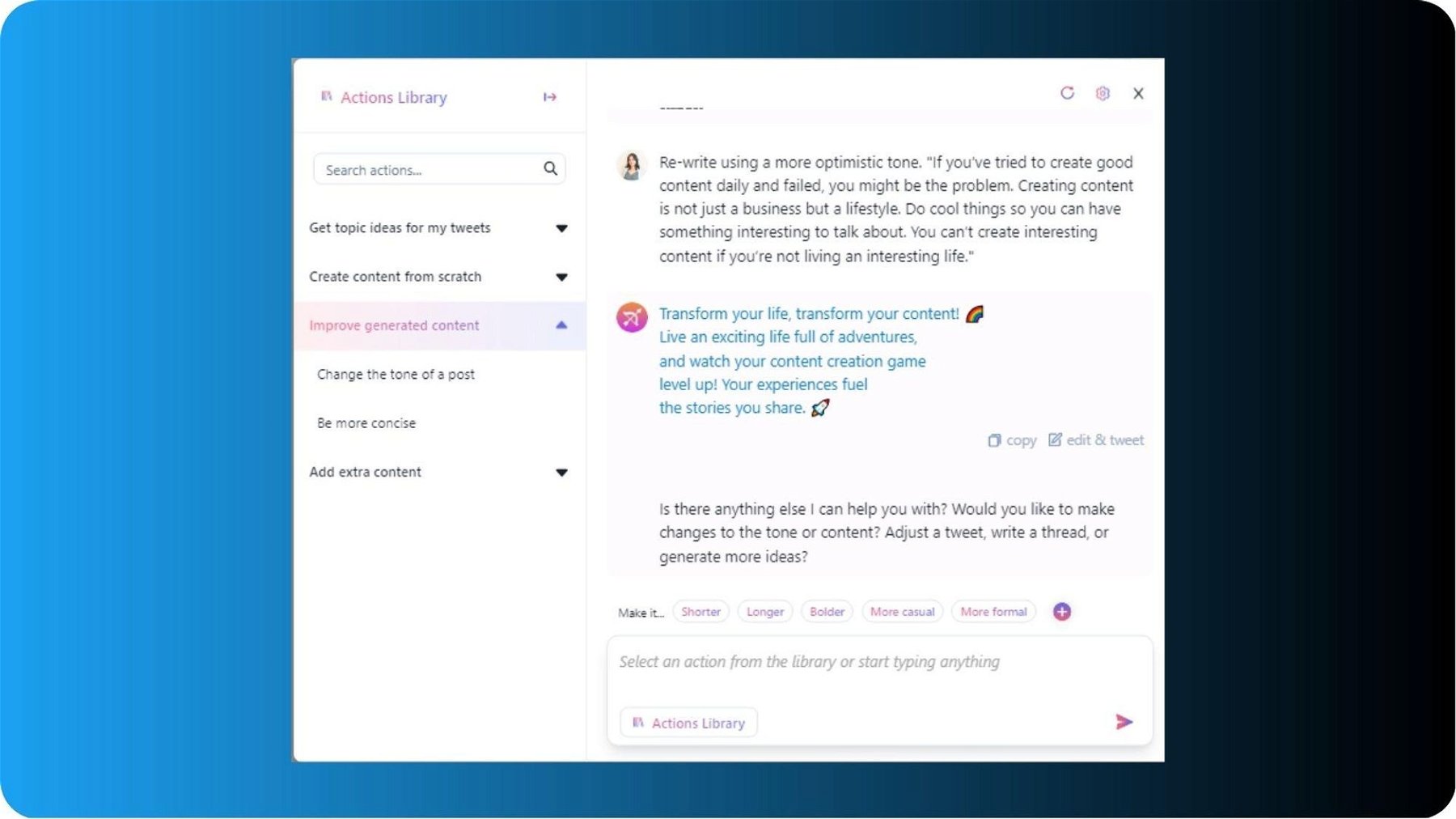 Step 2: Be More Concise
One of the biggest challenges in creating tweets is sticking to the 280-character limit. You have big ideas, and trying to convey those ideas while staying within the character limit can be challenging.
Fortunately, an AI-powered content creation tool can help you write tweets and make them more concise. Here's how to do it.
Copy and paste your tweet in the prompt section of the AI Assistant.
Click "Be more concise" and hit enter again.
Add Extra Content
If you'd like to add some extra content to your tweet to beef it up, you can use AI Assistant to create a hook, a CTA, or even add a specific example.
Step 1: Add a Hook
Let's take our tweet in the previous example and add a hook to it.
Click "Add extra content."
Tweak the hook by giving it a specific prompt and then hit enter.
Step 2: Add a CTA
Click "Add a CTA" and hit enter.
Review and edit if needed.
Step 3: Add Specific Examples
You can also make your tweet more relatable and engaging by adding a specific example to it. Here's how to do it.
Click "Add specific examples" and hit enter.
Click "edit & tweet" if you're happy with it.
Tweet Hunter
's AI Assistant is packed full of features to help you take your content creation game to the next level. Explore and play around with these features to get more familiar with this AI content creation tool to improve the results it generates. It has the potential to help you simplify your content creation process and make it faster than ever before.