Enhance your Twitter ghostwriting with AI tools. Streamline your workflow and save time with AI writing tools.
Revolutionize Twitter Content with AI Ghostwriting Tools
https://ondemand.bannerbear.com/simpleurl/9MOpzJ843LWBnGWYvq/image/title/text/Revolutionize%20Twitter%20Content%20with%20AI%20Ghostwriting%20Tools
Social media-savvy ghostwriters are writing everything from Twitter posts for CEOs to LinkedIn carousels behind the scenes. But, with AI tools' prevalence, is the value of ghostwriters going to diminish?
Artificial Intelligence has evolved to become a very efficient tool. We've seen the capability of ChatGPT, and it is up to you to leverage these tools to help you save hours on the mundane areas of writing so you can put in the time to make your true capabilities shine.
In this post, we'll talk about the different use cases of AI tools for Twitter ghostwriters and how they can help you take your
ghostwriting business
to the next level.
What is AI Ghostwriting?
Ghostwriting refers to the process of writing articles, blog posts, tweets, or other social media posts for someone else. The writing will be published in part or entirely under someone else's name.
AI ghostwriting simply means using AI tools to help you with your writing process. There are several reasons why ghostwriters are using AI for writing. It helps you make your writing process faster and more efficient. It also helps you create content that is tailored to your audience.
If you are creating tweets or threads for clients as a ghostwriter, AI tools can unlock unparalleled possibilities for your business.
Why Use AI Tools for Your Ghostwriting Business?
Whether your goal is to improve your writing, speed up your writing process, or scale your business to earn more money, AI-powered tools for writing can help.
Here are a few key reasons why you should look into these tools for your business.
Speed
If you need to produce a high volume of content for your clients in a short amount of time, AI tools can help. These tools can generate content ideas and create content from scratch at a much faster rate.
If you are managing multiple clients, you may not have the time to write new content constantly while still looking for new clients and managing the other aspects of your business. A high-quality AI writing tool can automate a part of this process so you can save time.
Quality
AI tools can also help you improve the quality of your tweets. They can ensure that your content is free of any errors and has the right tone and language. You won't be sacrificing quality in the process.
For example, if you have already written a tweet for a client but they're not happy with the overall tone, you can use Tweet Hunter's AI Assistant to change its tone with the right prompt quickly.
You can also use these tools to generate high-quality hooks and CTAs for your tweets, allowing you to focus on the core message of the tweet instead.
Accuracy
One of the biggest benefits of using AI tools for Twitter ghostwriting is accuracy in your work. You don't need to rely on someone else to proofread for you. With AI, the content will be error-free and accurate.
Once your content is written, simply feed it to your AI tool and ask it to correct any grammatical and punctuation errors and improve its readability. This will allow you and your client to avoid any embarrassing mistakes once the tweet is published.
4 Ways to Use AI Tools for Twitter
Here are four different ways you can use AI tools as a Twitter ghostwriter.
Brainstorm Content Ideas
One of the most time-consuming aspects of your work is coming up with new content ideas for all your clients. This is even more challenging when you are creating content for clients in different niches.
AI tools can make this easier. Use them to explore different ideas around a particular topic. Read through the ideas and pick the ones that you think will resonate the most with your clients and their audiences.
Let's say your client is a financial coach. Here's how you can use AI to generate tweet ideas for them.
Start with a simple prompt like "As a financial coach posting on Twitter, what could I post about?"
Pick the topics that you like and use your creative ghostwriting skills to add more context to expand these tweets. You can also use these ideas to create threads.
You can also use AI tools to come up with a list of audience pain points. Use these as a starting point for creating content.
Let's take the example above. Here's a quick prompt to find audience pain points for your financial coach client, "List 5 different pain points that many people with money management issues have."
Generate Thread Hooks
Another great way to use AI tools is to generate
thread hooks
. The hook is the most important part of any thread, and that's where you'll most likely be stuck for ideas.
A tool like Tweet Hunter's thread generator can help. Simply enter a topic and let the tool generate a variety of hooks on that topic to choose from.
This will provide you with a good starting point from where you can start building your thread. Ultimately, this will help you not just save time but also discover different content angles that you may not have thought of otherwise.
Generate Powerful CTAs
Just like thread hooks, the CTAs that you use in your tweets and threads are crucial to
coax your readers to take a desired action
. Even if you spend hours crafting an awesome thread, it will fail to translate into retweets, likes, clicks, or signups if you don't have a
powerful CTA
.
If you're stuck for ideas, AI tools can also help you generate CTAs that resonate with your audience.
Repurpose Blog Posts into Threads
Let's say your client has a blog post on "Using Twitter for Market Research." You can give your AI tool a prompt like "Analyze a blog post and create a thread based on it."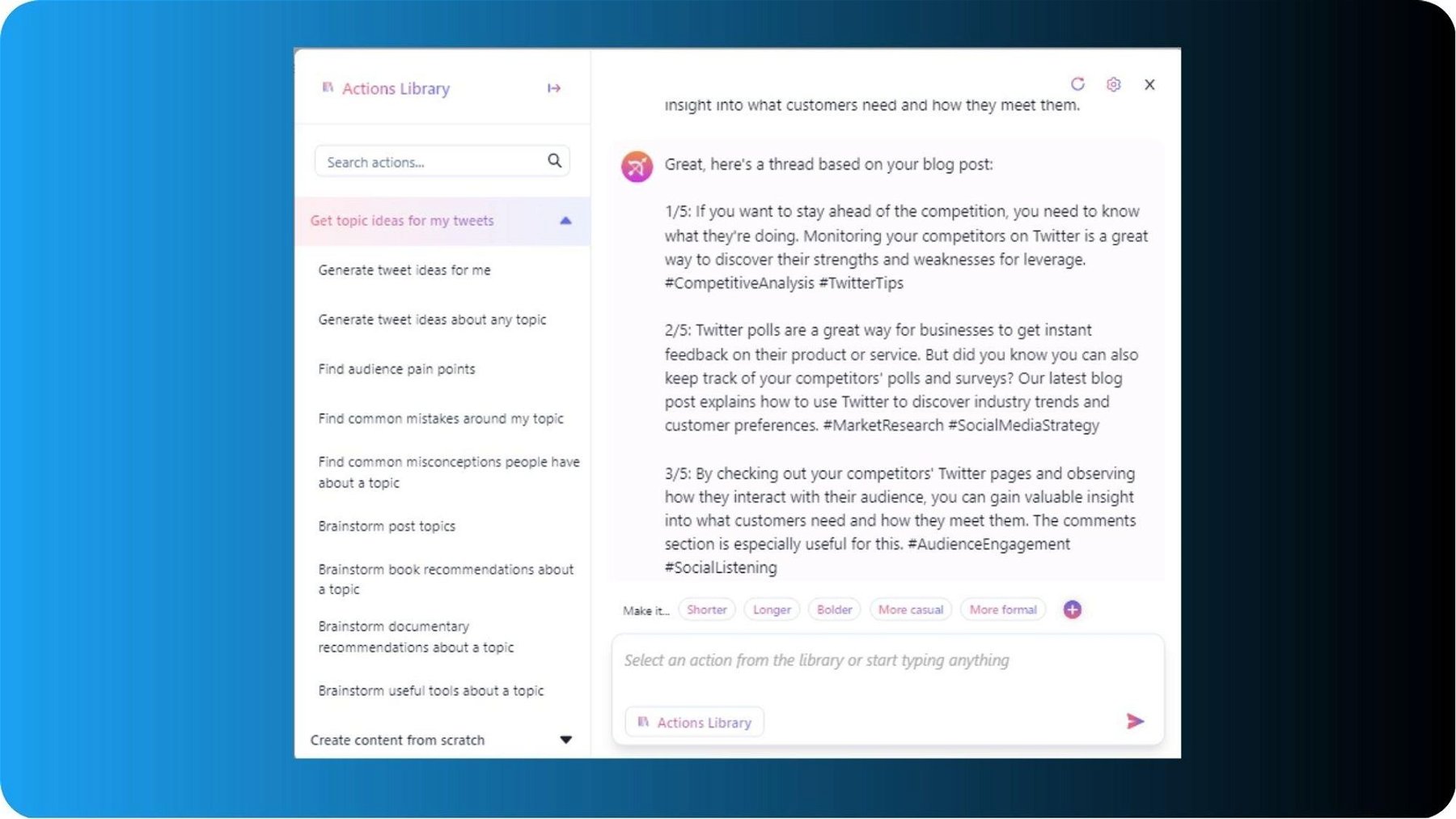 Now let's tweak it a bit with a prompt like "Add some context and make it bolder."
Now you have a crisp, concise list for your next thread. All you need to do now is to add your unique touch and brand voice to the thread, and you're ready to publish.
Tweet Hunter's AI Tools for Ghostwriters
There are multiple opportunities for Twitter ghostwriters to scale their business like never before, thanks to AI tools for writing. Here are a few AI tools from
Tweet Hunter
that you can start with to create stellar tweets for your clients:
Ready to position yourself for success on Twitter? Let Tweet Hunter's AI Assistant help you generate topic ideas and create high-quality content!
Try Tweet Hunter Now!