There's practically a tool for everything you want to do on Twitter, whether you want to get more followers, schedule posts in advance, or need some help writing your tweets. There are tools for research, efficiency, productivity, and more.
How to Choose the Right Twitter Tool
The best Twitter tools offer a range of features that optimize your experience on the platform. Here are a few important features you should look for.
Scheduling Tweets
Analytics
Collaboration
Engagement Features
Content Creation
10 Best Tools for Twitter
Tweet Hunter
Features
Schedule threads and tweets
Pros:
Ability to automate a lot of processes
AI-powered content creation
A large variety of tools are available, many of them free
Cons:
The learning curve involved in generating good results from AI Assistant
It can be a little expensive for the casual user
Does not support other platforms
SocialPilot
Features:
Ability to create customized posts
Supports multiple accounts
Visual social media calendar
Pros:
Ideal for digital agencies and small businesses
Robust analytics and reporting
Cons:
May not be suitable for individual users
Meet Edgar
Features:
Content creation features
Pros:
Content can be organized into categories
Detailed analytics of posts
Recurring sharing of tweets
Cons:
Does not schedule threads
Tweepi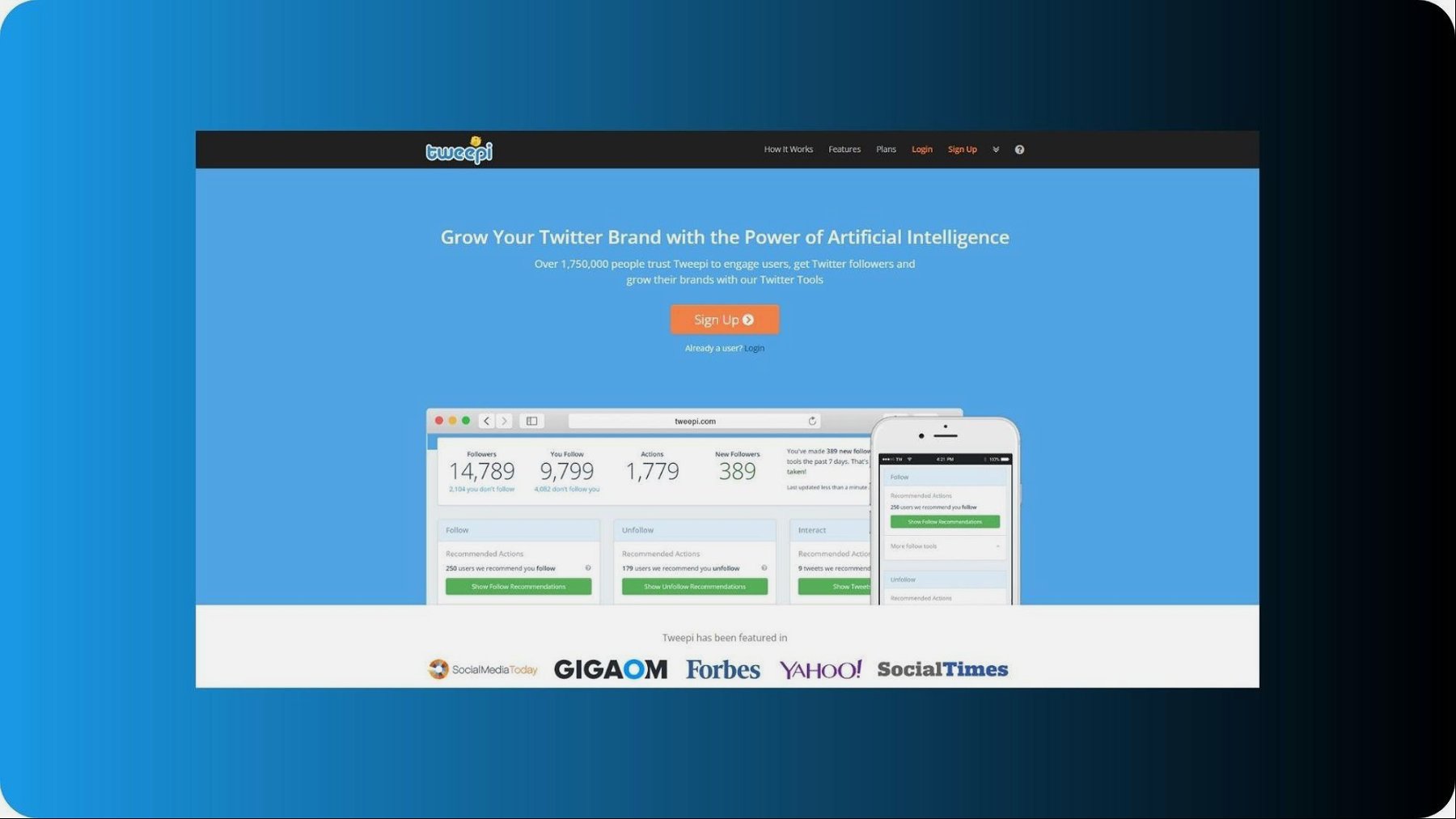 Features:
Find users from Twitter lists, based on keywords, or hashtags
Sorting and filters to target specific users
Unfollow undesirable followers
Pros:
Ability to filter, sort, and find the right people to follow
Ability to clean up Twitter account relatively easily
Cons:
Lacking all other features
Only focused on finding and growing followers
Agorapulse
Features:
Pros:
Cons:
No thread scheduling capability
Can be expensive for individual users
Audience Connect
Features:
Twitter follower research
Ability to create conversational trees
Pros:
Ability to manage subscribers with opt-ins
Can get accurate insights about your audience
Chatbot can interact with the audience
Cons:
The learning curve can be steep
Advance insights are not free
Twitnomy
Features:
Ability to follow and unfollow
Download reports and data
Analyze retweets, mentions, followers, and hashtags
Customer management and service features
Pros:
Ability to customize your alerts and dashboards
Can analyze tweets per day and tweet history of competitors
Easily respond to customer queries and complaints
Cons:
Lacking many features offered by other tools
The interface could be better
Followerwonk
Features:
Pros:
Ability to track followers based on activity, engagement, and follower count
Track people who have unfollowed you, send spam or are fake followers
Cons:
Primarily only for those who want analytics and the ability to track followers
Sprout Social
Sprout Social users can engage with followers directly from the platform. It also has good social listening features that can help you stay connected with your target audience.
Features:
Pros:
Good scheduling and publishing abilities
Ability to manage multiple accounts
Cons:
Lacking thread scheduling capabilities
Buffer
Buffer allows you to plan your tweets in advance and schedule them, even when your tweets include videos, GIFs, or quote retweets. It also suggests hashtags that you can use in your tweets to improve your visibility. The analytics features allow you to see how your content performs and whether your followers respond to your tweets. It also offers collaboration features for teams.
Features:
Pros:
Ability to schedule threads
Can help you repurpose your content
Cons:
The free and essential plans lack a lot of features
The mobile app can be glitchy at times.
As you can see, there is a wide variety of tools available to choose from. The best Twitter tool for you is one that is easy to use, offers features that matter the most to you, and is within your price range.