Need a Laugh? Discover the 15 Funniest Twitter Accounts for Instant Entertainment.
Funniest Twitter Accounts - Top 15 to Follow
https://ondemand.bannerbear.com/simpleurl/9MOpzJ843LWBnGWYvq/image/title/text/15%20Funniest%20Twitter%20Accounts%20to%20Follow
While plenty of Twitter accounts can inspire you and give you invaluable information about personal branding, business, and technology, sometimes all you need is a good laugh.
Twitter is a hub for some of the funniest people on the web, and if all you want is someone who can crack you up, you're in luck. Check out our curated list of the 15 funniest Twitter accounts you should follow for a good laugh.
15 Funniest Twitter Accounts for a Good Laugh
Depending on your humor style, you're bound to find someone on this list who can bring you out of your grump.
Elizabeth Hackett, @LizHackett
Elizabeth Hackett is a screenwriter and a frequent eater of toast (by her own admission), which is one of the reasons why her tweets resonate with so many people. Here's a look at the kind of humor you can expect if you follow her account.
The Dark Lord, @Lord_Voldemort7
You can't go wrong with The Dark Lord. If you love sarcasm and cynicism, this account will be right up your alley. Expect angry tweets that showcase a hatred for Twilight and the occasional tweet about American politics.
James Breakwell, @xplodingUnicorn
James Breakwell is an author, a father, a husband, and an all-around funny man. If you love parenting and marriage jokes, he's the guy to follow!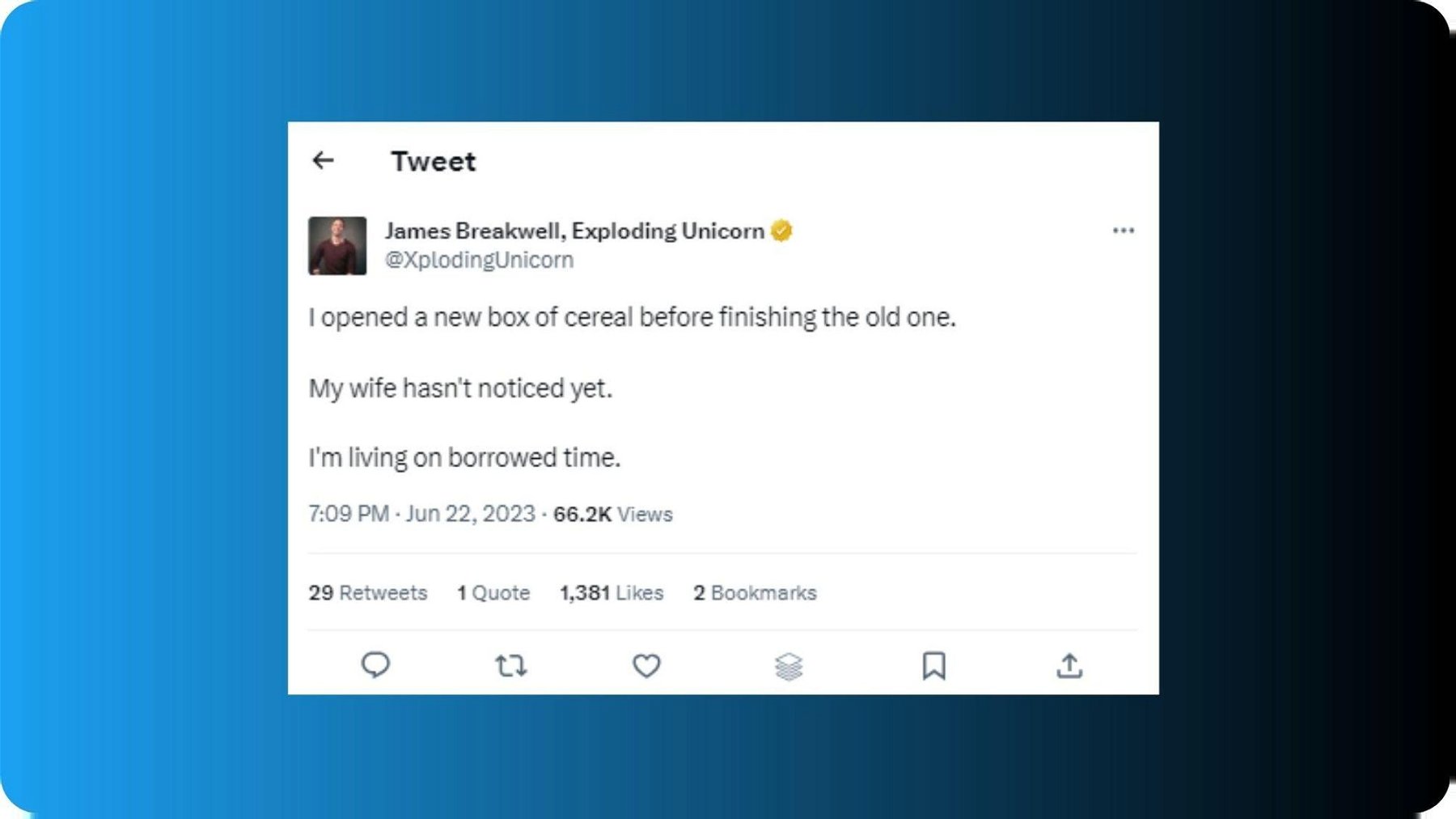 The Oatmeal, @oatmeal
The Oatmeal is a huge internet sensation; you'll know why once you check out their tweets. The Oatmeal is a webcomic and humor account sharing topical illustrations and satirical content. If you like their post, there's more to check out on their website.
Thoughts of Dog, @dog_feelings
Dogs have feelings, and Thoughts of Dog shares those spectacularly well from the viewpoint of a doggo with infinite knowledge. The tweets they post on this account are funny and adorable, but you'll stumble upon nuggets of wisdom when you least expect them.
Simon Holland, @simoncholland
Simon Holland is another funny husband and dad who truly gets the parenting struggle. You'll find yourself nodding along as you read through their tweets and sending screenshots to your other half.
Harrison Weinreb, @harriweinreb
Harrison Weinreb is a Montreal-based comedian who has perfected observational comedy on Twitter. His tweets are a unique blend of deadpan humor and absurd one-liners. Other than Twitter, he's also a well-known name in the Canadian comedy scene.
Men's Humor, @MensHumor
Men's Humor presents funny tweets tailored explicitly for men. So if you're looking for a
Twitter account
that offers a space for you to find things men usually find funny, this is it.
Kelly Oxford, @kellyoxford
Kelly Oxford is an NYT bestselling author, screenwriter, and director. If those accomplishments weren't enough, Kelly also has an impressive following on Twitter. She often posts funny snippets based on motherhood and the conversations she has with her children.
Eli Braden, @EliBraden
Eli Braden is one of the funniest people on Twitter. Fans of the Howard Stern Show will also be familiar with Eli's raunchy parody songs on the show. On Twitter, though, his tweets are very clever and have paved the way for him to perform live and write for TV shows.
MoonPie, @MoonPie
Although it's known originally as the creator of a delicious Southern treat, MoonPie's Twitter account has become known for something else entirely. You'll find a blend of weird, absurd, and absolutely hilarious tweets on their account. Fair warning, don't insult their dessert, or they'll come down hard on you.
Women's Humor, @womenshumor
Women's Humor is all things women, and you'll find the tweets very relatable, funny, and sometimes a little sassy!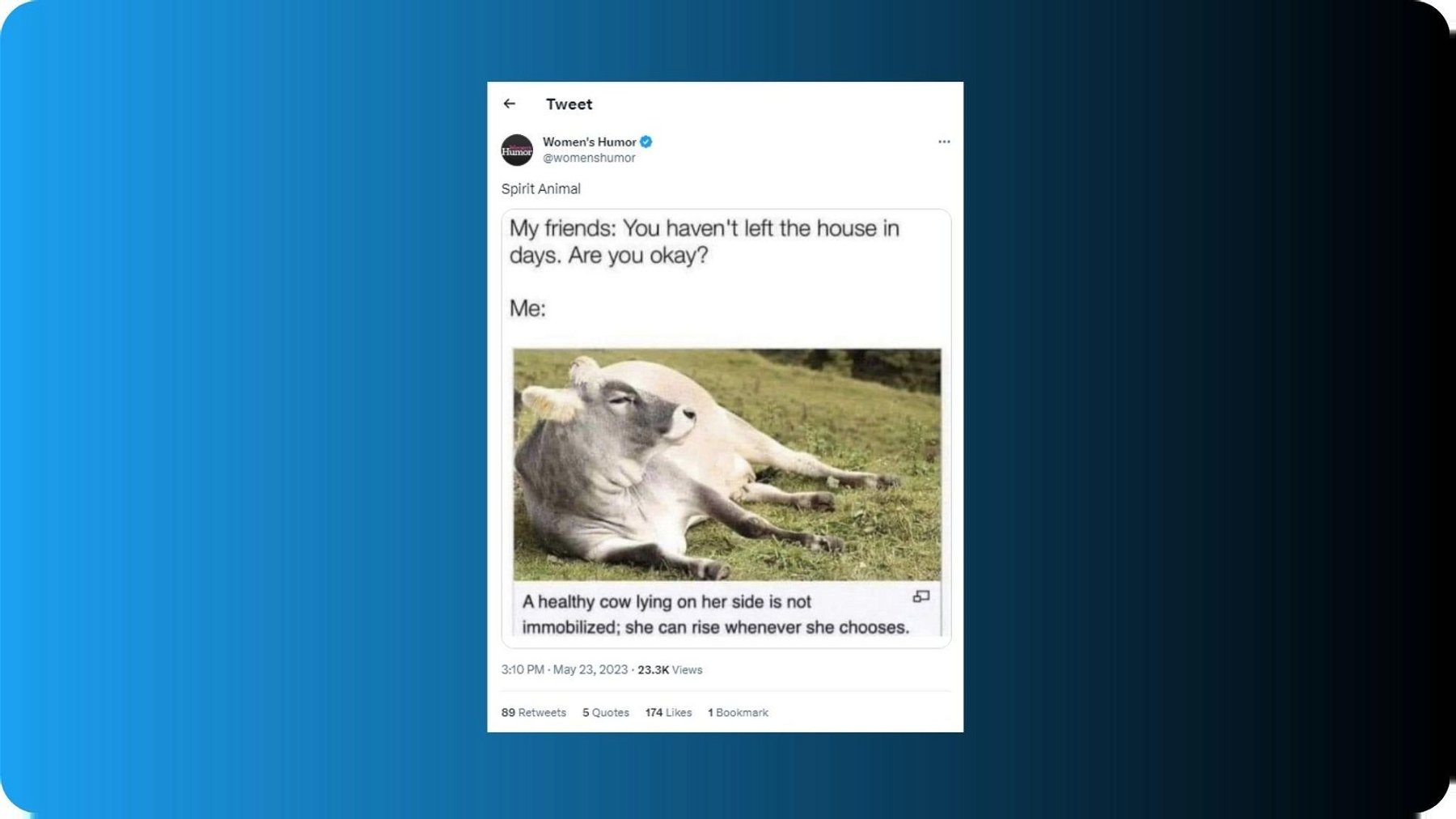 Tim Siedell, @badbanana
Tim Siedell is a creative director based in Nebraska. He has also been a TV guy and a writer for Larry Wilmore's The Nightly Show. If you want
funny tweets
with dark humor and clever nuances, check out Tim.
David Hughes, @david8hughes
David Hughes is an Australian producer with a witty, clever sense of humor. You'll love his punchy one-liners.
Introverts Memes, @introvertsmemes
We have something for all the meme enthusiasts to round up the list. Introverts Memes has a massive following on Twitter, and it's easy to see why. The memes they post make introverts around the world feel seen 🙋. They're absolutely funny, in case we didn't make it already clear!
Tweet Hunter is a highly-advanced, dedicated
Twitter growth tool
that offers an easy way to create engaging tweets and schedule them in minutes. With our powerful AI-powered content creation, advanced analytics, and robust CRM features, you can grow on Twitter faster than ever before. Sign up today to see how Tweet Hunter can help you get more sales and growth!