Make your tweets stand out with visually attractive and eye-catching animated Twitter GIFs.
Twitter GIFs: How to Create and Use GIFs for Engagement
https://ondemand.bannerbear.com/simpleurl/9MOpzJ843LWBnGWYvq/image/title/text/How%20to%20use%20Twitter%20GIFs%20to%20elevate%20your%20brand
Animated Twitter GIFs have made a major comeback in the last few years and are now widely used for online marketing. GIFs' short, looping nature makes them perfect for audiences with short attention spans.
There are many reasons why GIFs should be a part of your social media strategy. Their eye-catching movement and artistic potential are ideal for
personal branding on Twitter
. Plus, they are easy to create and share.
Save 100s of hours with Tweet Hunter's scheduling & automation features. Focus on high-value tasks & grow your business with ease.
Sign up now!
Why You Should Use Twitter GIFs for Marketing
If you are planning to add more visual content to your Twitter content calendar, GIFs should be a part of it. Here's why.
Visually Attractive
Great visuals will allow you to stand out on Twitter. GIFs grab attention and get people to stop scrolling and pay attention.
Twitter audiences prefer interacting with posts that are visually appealing. Posts with images and other
visuals drive more engagement
on Twitter than those without.
Conveys Emotions
GIFs are a great way to convey emotions without using words. You can find GIFs on Twitter to express boredom, sadness, happiness, and more. Although words are powerful, using visuals as a part of storytelling is sometimes more impactful.
Increased Engagement
In a study, Twitter discovered that tweets with GIFs resulted in
55% more engagement
than any other type of content. Adding
branded or custom-created GIFs
to your tweets can help you get more likes, replies, and retweets.
How to Find GIFs for Your Tweets
Once you've written a great tweet, it's time to find the perfect GIF to post with it. You can find GIFs on Twitter and share them quickly without ever leaving the platform. Here's how to do that.
Click "Tweet" to start composing your tweet.
Once you've written the copy for your tweet, click the "GIF" button in the row below.
Scroll through the categories to find one you want to use.
Alternatively, enter a search term to find something specific.
Once you find a GIF you want to use, click on it to upload it.
How to Create Custom GIFs
While Twitter has a huge variety of GIFs to choose from, if you really want to take things to the next level, you may want to start creating custom GIFs. It's easier than you think and a lot of fun! Use a service like
Giphy
to create your own GIFs from images and videos.
Create Twitter GIFs from Videos
Click "Upload" on the homepage.
Add a Vimeo or YouTube link or upload a video file.
Trim the video to create a short GIF.
Click "Continue to upload."
Click "Download" to save it to your computer.
Alternatively, you can also click "Upload to Giphy."
Once uploaded, click the "Share" button.
Click the "Twitter" button to share it on Twitter.
Create Twitter GIFs from Images
Click "Upload" on the homepage.
Click "Choose file" to upload an image.
Click "Add more images" to upload more images.
Arrange the images in the right order.
Select text style and animation style.
Click "Continue to Upload."
Click "Share" and then "Twitter."
Using GIFs to Increase Engagement on Twitter
Now that you know how to choose GIFs on Twitter and create your own GIFs from videos and images, let's explore a few ways of using them to
increase engagement
.
Use Them as a Teaser
Link posts may not always generate a lot of traffic, and native video on Twitter does not support long-form videos. Use Giphy to create short GIFs of your video content as a teaser. Share these on Twitter to generate interest from your audience before you share the link to the original video.
Short Tutorials
Want to share a quick tutorial with your audience? Use GIFs to create a short walkthrough to deliver value to your customers. Share a quick step-by-step guide in the form of a GIF on how to accomplish something. This will also motivate prospects to try your product or service if they haven't already.
Entertain Your Audience
GIFs on Twitter are incredibly effective in increasing brand recognition. They allow you to showcase your personality, add some flair to your content, and show the personality behind the brand.
GIFs can be used for much more than educate your target audience. Use them to entertain your audience and lighten things up a little. Share GIFs that will resonate and will be easy to understand for your audience.
Hype Up Your Product Launch
Whether you are counting down to a milestone, important announcement, product launch, or event, use GIFs to get your audience excited and generate interest. Words may not get your audience excited, but showing them through visuals can grab their attention. Keep the GIF simple and tap into that excitement by engaging with your audience.
If you are using
Tweet Hunter
, you will be able to add GIFs to your tweets without having to leave the platform.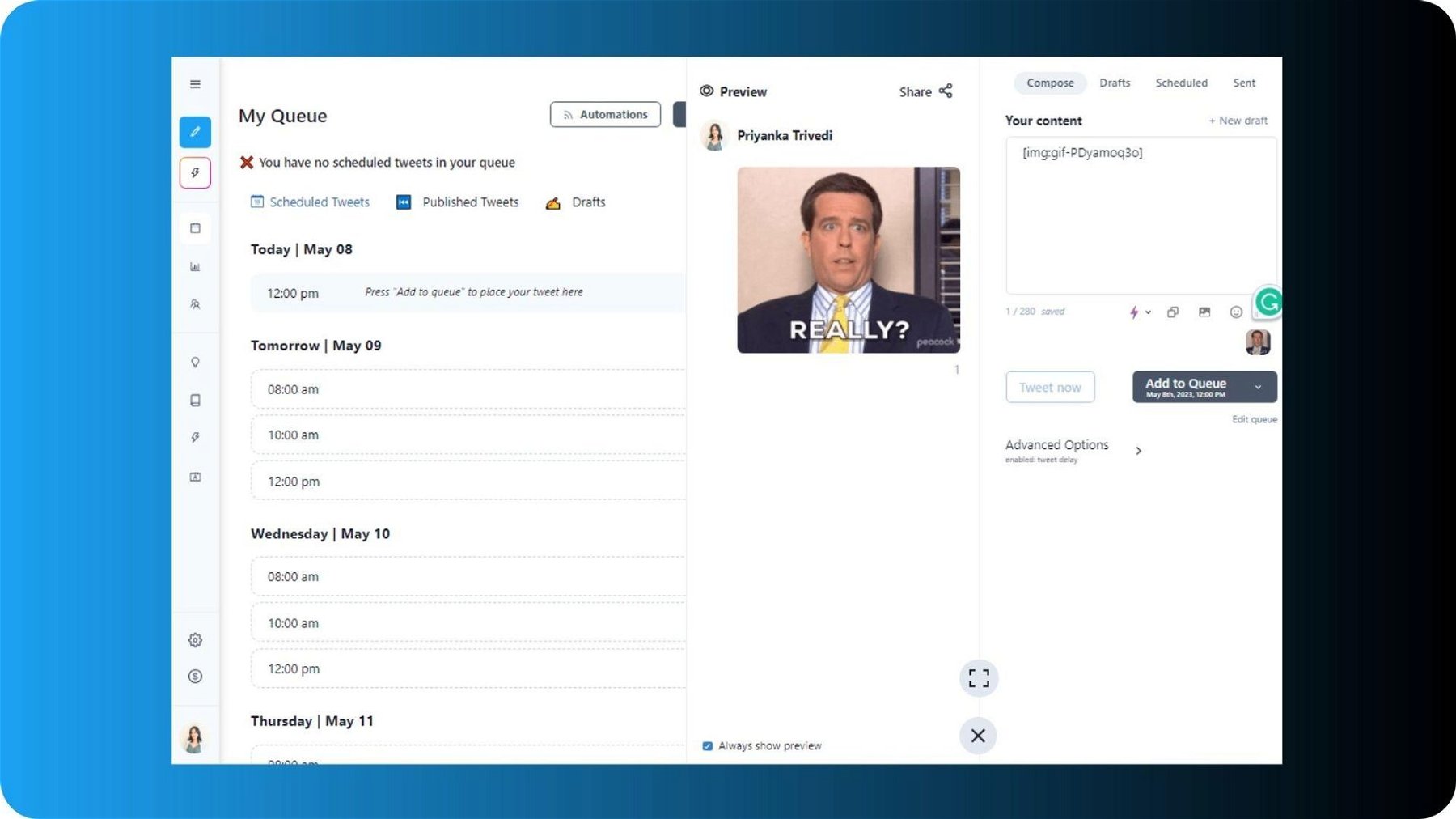 Click "Write a Tweet" on your dashboard.
Click the "GIF" in the bottom row.
Enter your search term to find the right GIF.
Click the GIF to insert it in your tweet.
Add to queue or schedule for later.
Take your writing to the next level with
AI-powered tweet suggestions
and TweetPredict™!
Sign up for Tweet Hunter now
to get personalized daily tweet suggestions, re-write tweets you love, and discover fresh tweet and thread ideas.